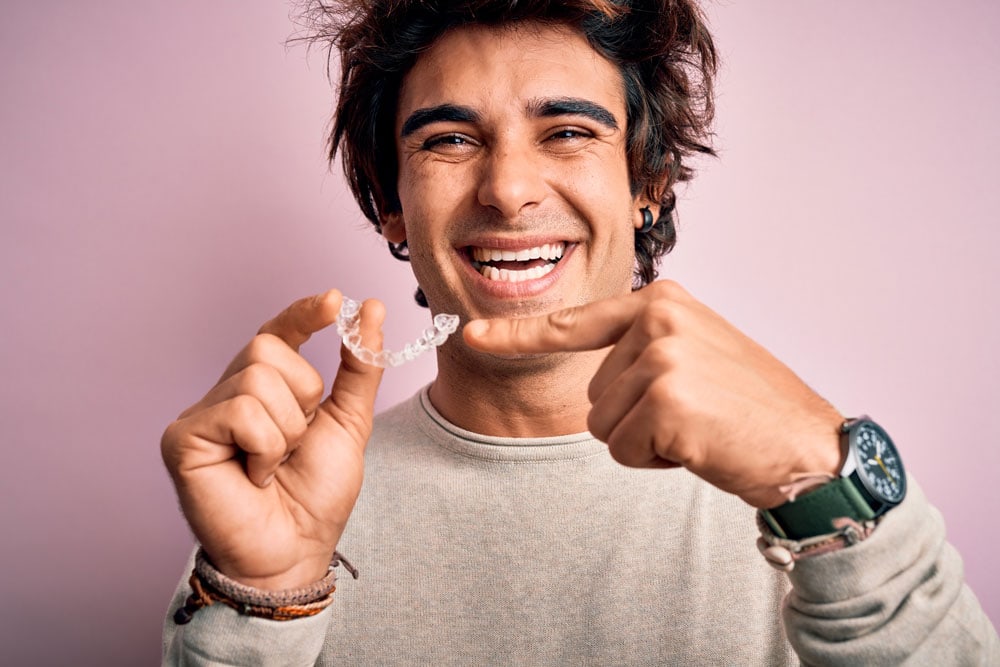 Everyone deserves to feel confident in their own skin and their own smile! If you are an adult that has been experiencing orthodontic issues or you simply want to correct some crooked teeth, Invisalign could be a great fit for you. Invisalign can fix a number of orthodontic issues without the discomfort or obvious look of braces, making it an excellent treatment for adults. Oftentimes, we see adults who feel they "passed their prime" to correct orthodontic issues—this is absolutely not true. It truly is never too late to invest in orthodontics because this directly translates to investing in your health. Issues such as TMJ, difficulty chewing, and bone erosion are often related to your teeth and jaw position. Fixing orthodontic-related health issues now can save you time, money, and discomfort in the future.
Additionally, straightening your teeth is a huge boost for self-esteem! Instead of hiding your smile or laugh, a straight smile gives you the confidence to be yourself and show your true emotions fully. If you are interested in Invisalign treatment as an adult, read on to learn more about the process and all it entails.
How Invisalign Works
To start the Invisalign process, you will need to come to the practice for a consultation to confirm that you are a candidate for treatment. During this preliminary appointment, Dr. Zammitti or Dr. Gidaly will take digital impressions of the maxillofacial area using the new iTero scanner technology. iTero uses a radiation-free laser to scan the teeth and soft tissue, rendering a perfect model within minutes that can be viewed via computer screen. This non-invasive, fast technology is our way of saying goodbye to uncomfortable trays and putty that everyone despises when taking dental impressions.
Once the orthodontists have identified your goals of Invisalign, they will move ahead with the actual production of your personalized Invisalign aligners. These clear plastic aligners are designed to move the teeth and jaw to their desired position gently. Every one to two weeks, your orthodontist will provide you with a new set of aligners to make another incremental change. You must wear your aligner for 20-22 hours a day to ensure that pressure is consistently exerted on the teeth. Unlike braces, Invisalign allows you to eat whatever you want, whenever you want! All you need to do is pop your aligners out during mealtime and make sure to thoroughly brush your teeth before putting the aligner back in.
Invisalign can be used to treat many of the same issues that braces fix, including overbites, underbites, gap teeth, and overcrowding. Since the aligners are made of a smooth plastic material instead of metal brackets and wires like braces, Invisalign is typically a more comfortable option than traditional braces. The aligners eliminate the possibility of wires poking out or friction between brackets and the inner gums. You may experience some soreness after switching to a new aligner, but this can be alleviated by eating softer foods or taking a pain reliever such as Advil or Tylenol for a day or two.
Benefits of Invisalign
Many adults do not want to draw attention to the fact that they are fixing their teeth. One of the biggest benefits afforded with Invisalign is that it goes virtually unnoticed by others, and you may even forget that you are in the middle of treatment yourself! The habit of wearing your aligners will become second nature to you in no time, so you can watch your teeth morph right in front of your eyes to a beautifully straight smile.
Invisalign treatment duration is roughly on par with braces, taking about 12 to 18 months on average. A big difference between these two options is that Invisalign does not require much maintenance on your end. You can still eat anything you want with Invisalign, and you can continue dental hygiene routines like normal since you do not have to navigate around pesky wires and brackets. Adult clients who have used Invisalign in the past say that it is an easy, non-invasive way to fix their teeth while keeping up with a busy life full of work, family, friends, and more.
Cost of Invisalign
The final price of your Invisalign treatment will vary based on which orthodontic issues you need to treat. Typically the process will cost around $3,000 to $7,000, though your insurance provider can sometimes cover up to thousands of dollars in treatment cost. You can also inquire about any discounts or payment plans available at our office to make the process more manageable. At our practice, we never want financial stress to deter someone from achieving their dream smile, so please do not be shy when it comes to the cost of treatment.