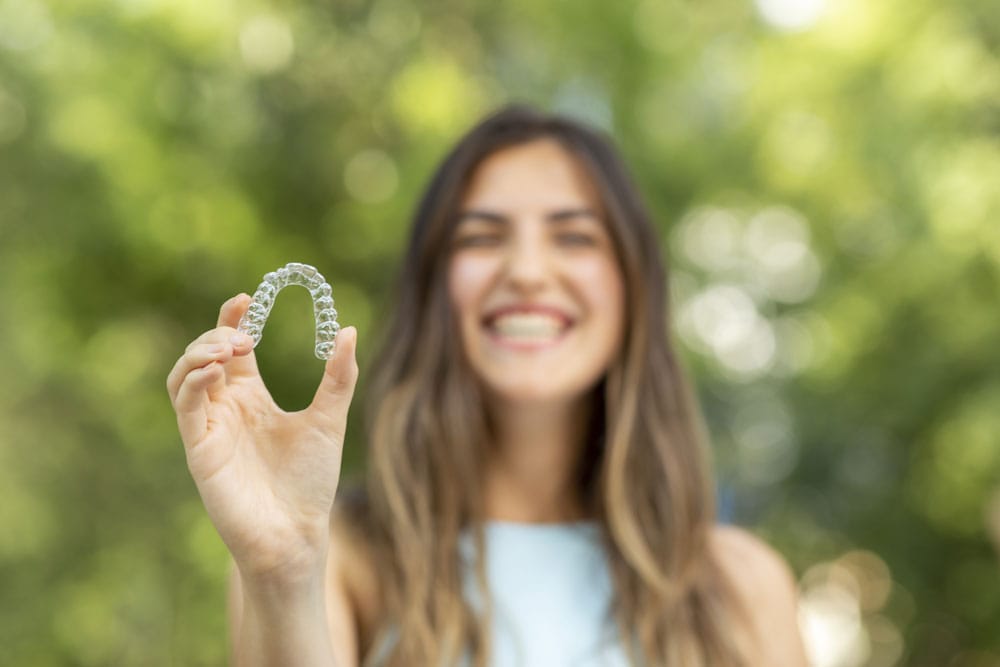 Braces have been around for generations, and are still being used today because of their ability to consistently produce great results. Braces are a great option for patients of all ages who are looking to fix their teeth, but we also like to inform our clients on Invisalign, a newer type of orthodontic treatment. Instead of brackets and wires, Invisalign utilizes clear aligners to move your teeth and jaw. This novel treatment is able to correct many of the same issues as braces, including overbites, underbites, crossbites, gap teeth, and overcrowding. If you are interested in Invisalign as a means to correct an orthodontic issue, or simply straighten out some crooked teeth, read on to learn more about how the process works.
Benefits of Invisalign
There are a number of reasons why our clients prefer Invisalign over braces. We know that many teens do not want to draw attention to their teeth while they are in the process of treatment. One of the biggest benefits afforded with Invisalign is that it goes virtually unnoticed by others. Some of our teen patients that use Invisalign even forget that they are in the middle of treatment themselves! Wearing the aligners becomes a habit in no time, so you can watch your teeth morph into a beautiful smile right before your eyes.
Invisalign treatment takes about 12 to 18 months on average, which is roughly the same duration as braces. Another reason teens love Invisalign is because it does not require much maintenance or effort on their end. Unlike braces, you can eat anything you want while undergoing treatment with Invisalign. Simply take out your aligners, enjoy your meal, and make sure to do a thorough brushing before putting your aligners back in. Dental hygiene with Invisalign is straightforward too, since you do not have to navigate around pesky wires and brackets.
The Invisalign Process
The first step in the Invisalign process is simply coming to the orthodontist for an examination. During this appointment, Dr. Zammitti or Dr. Gidaly will visually examine your teeth and create a 3D model of your tooth and jaw positions using a digital scanner. The new iTero scanner technology uses a radiation-free laser to scan the teeth and soft tissue, creating a perfect model within minutes that can be viewed on a computer screen. This technology is fast and non-invasive, and it allows us to clearly show which parts of your teeth and jaw need to be treated with Invisalign. The iTero scanner is the new and improved way to take dental impressions, so say goodbye to uncomfortable trays and putty that everyone hates and enjoy the simplicity of iTero.
The Invisalign aligners need to be worn for 20-22 hours a day, only being removed during mealtime and brushing. Every one to two weeks, your orthodontist will provide you with a new set of aligners aimed at making another incremental change. Some patients report tenderness around the gums after switching to a new aligner, but this can be alleviated by eating soft foods or taking a pain reliever for a day or two.
Caring for Your Aligners
Taking care of your aligners is simple but should not be overlooked. You do not want to let food or drink accumulate in your aligners because they will be sitting on your teeth for most of the day and can cause dental problems if not kept clean. You should make sure that your teeth are clean before putting your aligners back in as certain foods and drinks can stain and damage the aligner. It is also a good idea to brush your aligner with a toothbrush and toothpaste in lukewarm water every day to keep them clean.
Cost of Treatment
Just like braces, the cost of Invisalign treatment varies from person to person. The final price of Invisalign will depend on your diagnosis, how quickly your teeth move, and if you are following the instructions from your orthodontist. Typically the process will cost somewhere in the range of $3,000 to $7,000, though insurance providers can sometimes cover up to thousands of dollars in treatment cost. You can also inquire about any discounts or payment plans available at our office to make the process more manageable.